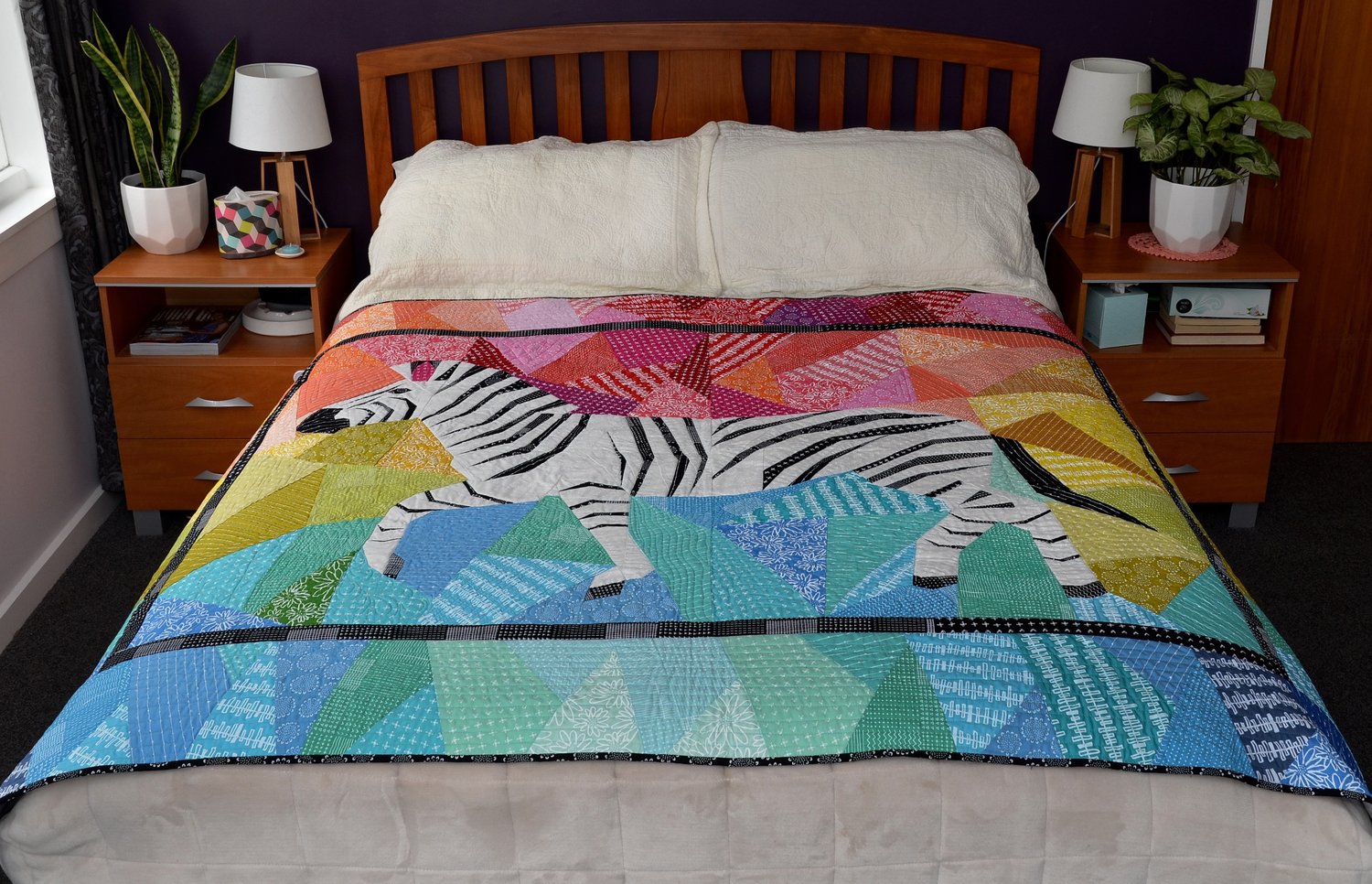 Running Zebra Quilt Pattern
The Running Zebra pattern is the largest foundation paper pieced pattern that I have created to date. The central zebra block measures 45" x 60" (115cm x 150cm). The completed quilt shown in the pictures measures 63" x 80" (162cm x 200cm), but you can easily alter the dimensions of the borders to suit your needs.
The pattern contains:
1. Written instructions which include the order in which pattern pieces should be sewn together
2. Colour diagrams
3. Numbered diagrams
4. A Colouring sheet
5. Paper foundations which include a seam allowance.
6. The pattern also includes a template and instructions how to create a fractured border.
As the pattern is so large, it has been formatted to A3/ Ledger (11" x 17") paper. Instructions are also included for those who prefer to print the pattern on A4/ letter paper.
If you choose to print on A4 paper, your central zebra block will measure 32" x 42".
If you choose to print on letter paper, your central zebra block will measure 30" x 39".
For the full size zebra, you will need:
1 1/4 yard black fabric,
1 1/2 yard white fabric
A large selection of scraps for the background. It is hard to predict exactly how much background fabric you will need as it really depends on how many fabrics you choose to use and how much you reuse those fabrics. If you choose to use a layer cake, you will need to be confident to alter the pattern as a few of the pieces measure 13" or 14".
My quilt was made using a fat quarter bundle of the bright shades of Blueberry Park Fabric and a fat quarter bundle of the cool shades. I did not use the darkest shades (navy, dark purple, dark green etc) and I chose to only use the light shades in the border. I had plenty of fabric leftover at the end.
I hope you enjoy sewing this pattern.